3/17/2021
---
The Forest Lake Times Interview with the Buesseler sisters. ForestLakeTimes.com
---
2021 Meeting Schedule
March 20 -Board 10AM, Membership 12:30PM - GRRC Red shed.


Agenda

June 5 - Board, GRRC Red Shed after match
September 25 - Board, GRRC Red Shed after match
December 12 - Board 10AM, Membership 12:30PM - GRRC Red Shed. Will change location if we can.
---
Minnesota Junior Rifle shooter, Allision Buesseler signed to shoot on the University of Kentucky rifle team. University of Kentucky is a NCAA Division 1 Rifle Team. Allision will join the team this coming fall (2021). MRRA wishes Allision great success at college and on the rifle team.
---
Due to the governor's WuFlu closure order the MN State Airgun Championship, scheduled for Dec. 13th, has been canceled.
---
Congratulations to Pat Scully for his F-Class National Championship Win!
---
Congratulations to our Minnesota Juniors for their finish in the Junior Olympic Championship in Colorado Springs.
Results - Men | Results - Women
---
A Report from Junior Chairman Bill Buesseler: Click Here
---

Pictured are: Sporter Team: Coach Paul Preblich, Michael Driscoll, Joesph Brennan, Jack Martin and Kaleb Rutgers. The Precision Team are: Nathan Engman, Tanner Barth, Gavin Barnick, Allison Buesseler and Coach Bill Buesseler. On the far right is Army Marksmanship Unit team member and former Minnesota Junior Patrick Sunderman.
---
The 2019 Spring Newsletter is now available Here
---
CMP Junior Smallbore Camp is Coming to Minnesota:
Great news for Junior smallbore athletes in Minnesota! CMP is bringing a 3 position camp to Minneapolis Rifle Club (St. Francis' Minnetonka Game and Fish property) this summer from July 8-12. This camp will be coached by CMP camp counselors who are trained and supervised by CMP. Registration is limited to 14 with the possible expansion to 20, depending on interest and counselor availability. Tuition is $285 for athletes, and $50 for Adult Leaders. Click Here for Program
---
Congradulations to Brad Yliniemi for a new MN State Offhand record 995-46x.

---
Congradulations Mathew Griffin 2018 National Palma Champion!
449-27x

---
Please be advised that as of January 1, 2018 MRRA no longer reimburses National Championship entry fees for Juniors or Adults. In addition, MRRA does not reimburse National Match fees from previous years."

Thank you,
George Minerich, President
---
Dana Buesseler named top freshman shooter in Ohio Valley Conference
2017 Forest Lake Graduate and MRRA Junior Dana Buesseler was named the Ohio Valley Conference Freshman of the year on the final day of the OVC Rifle Championships at the Pat Spurgin Rifle Range in Murray, Kentucky, Feb. 4. Buesseler is a member of the Murray State Rifle Team, which won the OVC title for the third straight year. Buesseler was part of a Murray awards sweep that saw Racers win the OVC MVP awards for Smallbore and Air Rifle. The Racers have qualified for the eight-team NCAA Rifle Championships to be held at The Citadel in Charleston SC, March 9-10. In the classroom, Buesseler made the Dean's list in her first semester at Murray State and was recently elected as an engineering ambassador.
---
Check out our Facebook Page, Here
---
2018 National Junior Air Rifle Championships
February 2, 2018 U.S. Army, Pool Indoor Range
Fort Benning, GA
Minnesota Juniors - Front to Rear: Ryan Hudson, Nathan Engman, Allison Buesseler and Gavin Barnick
---
Lones W. Wigger Has Left The Range.
Competitive shooting lost a legend on the evening of December 14, 2017. Lones W. Wigger, the most decorated shooter in the world, died at his home from cancer complications. He was the winner of two Gold and one Silver Olympic Medals, 111 International Medals and set 29 world records in rifle shooting. Competitive shooting will greatly miss him! Click here to read more.
---
The Fall 2017 Newsletter is here!
Download Here
---
International Shooting Sport Federation(ISSF) World Shooting Championships:
The ISSF World Championships are held every four years. The first championship was shot in 1897 at Lyon France. Modern day events include air rifle and pistol, smallbore rifle, free pistol, shotgun and 300 meter rifle. The next World Championship is Aug. 31, 2018 through Sept. 14, 2018. These matches will be shot at Changwon South Korea. USA Shooting will be holding open team tryouts for rifle and pistol this September at Fort Benning Georgia. The US Team selection Matches at Ft. Benning are scheduled for September 17 - 24, 2017.
The Minneapolis Rifle Club (MRC) will be hosting a warm up for the USA Shooting Fall Team Selection 300 meter Matches. The MRC 300 Meter range (electronic targets) will be open for practice for members and nonmembers August 17 thru August 21, 2017. Range hours will be 0900 through 1530. A MRC member will be in attendance at all practices. If there is enough interest, we may try to sanction a USA Shooting Match. Please see the attached PDF flyer. Feel free to share the flyer with any interested party.
George Minerich MRRA, President
PDF Flyer/Program
---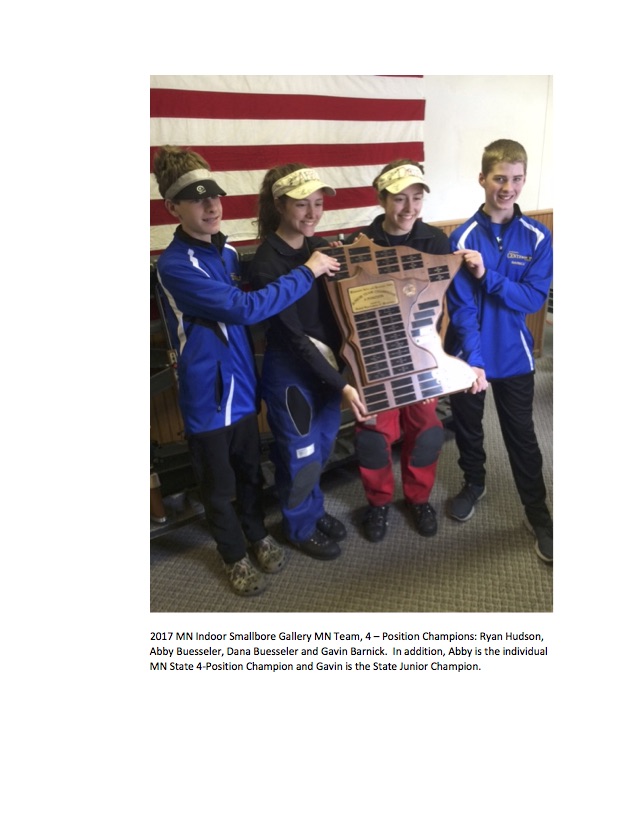 ---
2017 US Army Junior Air Rifle National Championship, January 27 & 28, 2017
Nine Minnesota Juniors shooters traveled to Georgia to attend Junior Air Rifle National Championship at Fort Benning. The match was shot on January 27 & 28, 2017. The U.S. Army Marksmanship Unit hosted the match. Pictured with the Minnesota Juniors is Patrick Sunderman member of the AMU and former MN Junior competitor. We are all very proud of our Junior Shooters!

Minnesota Junior Shooters (left to right): Dana Buesseler, Kamila Kisch, Abby Buesseler, Allison Buesseler, Elizabeth Ewert, Seth Olson, Riley Miller, Jack Kotok Kaleb Rutgers and Patrick Sunderman AMU
---
A History of the United States National Outdoor Smallbore Rifle Championship 1919-2013
By Hap Rocketto
Download
---
After being missing for 42 years, the combined (adult & Jr.) MN State Champion Air Rifle traveling trophy has resurfaced. It appears to have been hanging in a shooters basement since 1973. No, it was not in Lance Peters basement. The Montgomery Precision Air Rifle tournament started in 1969. Since the trophy has been found will go back to using it. I hope to have it on display at the MN Air Rifle Championship on New Year's Eve.

As a side bar, it is hard to believe that air rifle started in the 60's. Most shooters think of air rifle as being a relatively new sport.

There are many years missing names / years from the trophy and I hope to fill in the gaps. The plaque has tags for 1969 through 1973, plus I have information for several more years. If you have any records of MN State Air Rifle Champion's please email me or call me with the information. I am looking for the winner's name, year won and if you have it the score.
| | | |
| --- | --- | --- |
| 1969 - C. Peterson (tag) | 1969 - H. Woltman (tag) | 1970 - C. Peterson (tag) |
| 1971 - H. Woltman (tag) | 1972 - H Woltman (tag) | 1973 - L. Peters (tag) |
| | | |
| 1978 - L. Peters | 1980 - L. Peters | 1981 - L. Peters |
| 1983 - L. Peters | 1984 - L. Peters | 1986 - R. Lund |
| 1988 - L. Peters | 1991 - R. Lund | 1994 - L. Peters |
| 2008 - E. Quiner, JORC. | 2011 - Alex Giesar, JORC. | |
Many thanks to Rodney Lund for recovering the trophy. We were also very lucky that Rod Lund Called Lance Peters to get his records. Lance gave Rodney his information a couple of days before he passed away. In several years there may not have been an adult championship but there was a Junior Olympic Championship. In those years we will use the JORC winner if it is submitted.
So if you won the MN Air Rifle Championship or know someone that has or have an old match bulletin, please send the name, year and score (or bulletin) if available to me. I will have tags made and placed on the trophy.
Contact:
George Minerich, MRRA President
george.minerich@q.com
(320) 293-2933
George Minerich, MRRA President
---
Congratulations to Brad Yliniemi with his 100 shot Offhand score of 985-30X
---
Ten girls from American Heritage Girls troops in Minnetonka and Bloomington spent a fun Saturday at the Minneapolis Rifle Club (MRC). They started out learning about firearms and firearm safety, then getting in a little practice. We even got some of the moms to take a shot at it. In the end the girls earned their Shooting Sports Badge.

Thank you to MRC for hosting the event and the Minnesota Rifle and Revolver Association for providing ammunition, food, instruction and coaching. The girls hope to do it again soon!

Kirsten Rohmann
Coordinator, AHG MN0408
---
---
The MRRA would like to congratulate Erik Rhode for his pending state record of 599-39x fired on the 300, 500 & 600 yd MRP course held at NSRC May 14-15, 2016.
Match Results Here
---
2016 Spring Newsletter
---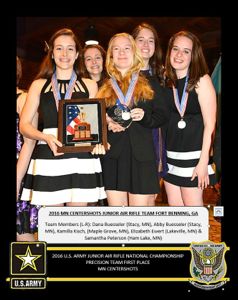 ---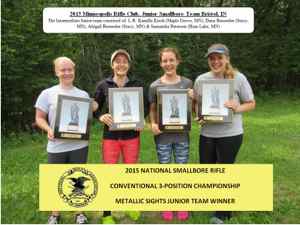 ---
Attention! NRA memberships:
Those looking to join or current NRA members who wish to renew can click on the "Join NRA" image above.
Doing so will directly benefit the MRRA.
---
President George Minerich has passed on this copy of the first MRRA State Championship from 1932.

Downloadable Copy
---
An open invitation to international competitors from President George Minerich.
Invitition
66kb
---
MRRA is proud to announce the addition of official MRRA Merchandise.
Support the MRRA with your purchase. Promote MRRA by wearing it.
NEW MRRA Merchandise page
---
---
Please note: All downloads with the
icon are in PDF format and require Adobe Acrobat Reader.
For a free download of the latest version Click Here!
---